Coutouvre place of birth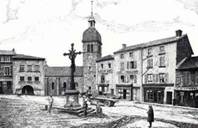 Coutouvre was a small country village hidden away in the hills of France, which we are proud to claim as the cradle of our Marist Sisters' branch of the Society of Mary. It was here that Jeanne-Marie Chavoin our Foundress was born in 1786 and lived with her family for thirty years. She was a strong, healthy country girl with many natural gifts, an innate appreciation for the value of work and a great sensitivity to the needs of others. At that time, in the wake of the French Revolution there was no school in the village so she was educated in her own home
As she grew up she was appreciated for her wisdom, discretion, judgement and compassion for the poor and the needy.
Her spirituality was a blend of ' the hidden life and authentic action' she always avoided drawing attention to herself. She participated in the life of the village and of the parish and became a member of the Association of Divine Love, the aim of which was to foster a life a prayer and charitable works in a hidden way. She had a great devotion to Our Lord in the Blessed Sacrament, while at the same time hiding herself in the world around her. She was irresistibly drawn to work for the good of others, especially the sick and the poor.
There is no indication that Jeanne-Marie had a special devotion to Our Lady, though as a member of the parish she would have taken part in processions and feasts held in Mary's name.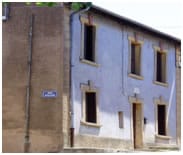 She lived in Coutouvre as Mary had lived in Nazareth.
The house where Jeanne-Marie was born on August 29th 1786
God was preparing her for her future role as Foundress and in 1807 she and her friend Marie Jotillon went to make a retreat at the Chartreux in Lyons. She also made many retreats in the nearby Pradines Abbey where the Superior invited her to become a member of the community. What she sought was not a monastic form of life but rather the style of life lived by Jesus and Mary in Nazareth. On two occasions when the archbishop of Lyons visited Pradines, he spoke with Jeanne-Marie offering to arrange for her to enter any congregation of her choosing, each time she refused. She waited until God made his will known to her. Her spiritual director had said to her,
'God does not want you to join an existing congregation but one which has yet to come into existence'.
Finally in 1817, when she was 31 years old, she received a letter from22Fr Pierre Colin, brother of Jean-Claude Colin, who had once been parish priest in Coutouvre, inviting her to Cerdon to collaborate in the Marist project. She knew immediately that this was where God was calling her.
With her close friend Marie Jotillon, she set off for Cerdon.
To this day she is remembered by the people in Coutouvre and her image is depicted in the stain glass window of the parish Church.