The Jeanne-Marie Chavoin Centre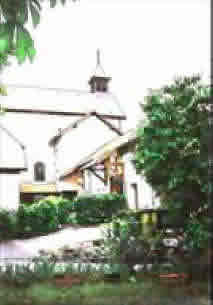 Situated in France where our congregation originated,
the Centre is part of "Bon Repos", the first property owned by the Marist Sisters in the town of Belley, east of Lyon
Contact Details:
"Centre Jeanne-Marie Chavoin"
40 rue du Bon Repos, 01300 Belley France
Tel (04) 794 22867, Fax (04) 794 22 874
Email: histcen@aliceadsl.fr
Marist Sisters
A place to rediscover the Foundress and to explore her spirit and the spirit of the Marist sisters as lived today
A place for reflection, prayer andMarist Sisters spiritual renewal alone or in a group.
A centre for pilgrimages to places of Marist origins.
The Centre welcomes individual Marists who wish to make a retreat or spend time in quiet reflection or research
Marist SistersThere is a library containing many texts of historical and current value and access to as yet unexplored Marist documents
A Centre from which to look back and to look forward to the future.
A place of hospitality and community where guests
in congenial surroundings, explore the ancient town of Belley, and enjoy the beautiful countryside.
Sisters Teri O'Brien and Marie Challacombe sm are resident in the Centre
to welcome and assist all who visit there.
TeriMari